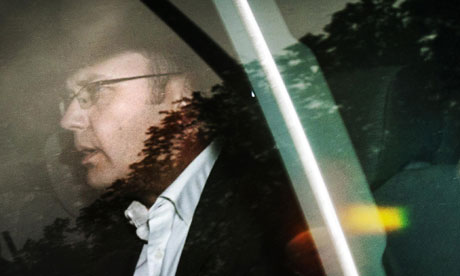 We heard it often during the trial. Perjury was one of the worst crimes of all, "Striking at the Heart of Justice." was how the Advocate Depute liked to put it to the jury. The Judge gave Tommy Sheridan three years imprisonment.
Two years on the mood music has changed.
Andy Coulson is detained for alleged perjury at the perjury trial and, suddenly, lying in court is less of a big deal.
Any idea that the guilty verdict and subsequent jail sentence suffered by Tommy Sheridan may have been influenced by two days of allegedly false testimony given to the jury by Mr Coulson is being laughed off.
The argument that phone hacking is irrelevant to the Sheridan trial is not a new one, it was extensively discussed in 2010 as the case proceeded. Indeed the Crown objected to evidence about the issue being presented to the jury a number of times.
The presiding judge, Lord Bracadale ruled on this issue. He decided that, as a part of the accused's defence rested on the idea that persons employed by News International had conspired to "do him in" , it was perfectly legitimate for the defence to lead evidence about News Group's practices, hence Andrew Coulson giving evidence at all.
We can also note that the police's decision to charge Mr Coulson must have included consideration of this legal definition of perjury in Scottish Law:
All that is required is that it should be clearly understood that a charge of perjury will not lie unless the evidence alleged to be false was both competent and relevant at the earlier trial, either in proof of the libel or in relation to the credibility of the witness."
It is important to stress that no-one, least of all Mr Coulson, has been convicted of anything yet and as far as I am aware there is no active appeal from Tommy Sheridan against his conviction. What strikes me though is the dismissal of the simple concept that any guilty verdict is in question when a witness is charged with lying in court.
James Doleman.